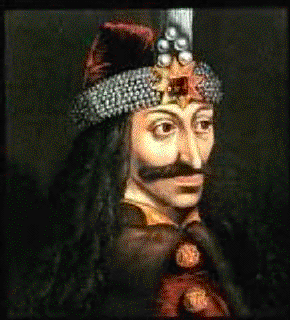 HAH! You puny mortals thought I had gone. I was merely on my "Defile a thousand virgins" spring tour. I am on hiatus until my "Necklace of a thousand and one ears and find the best fried clam roll" summer tour begins.
So what have you weak and insignificant humans have for ME – Vlad the Impaler?
Q. Dear Vlad,
My 4 year old has recently gotten very willful. She even told me that she hated me the other day and slammed the door in my face! What ever shall I do?
Signed,
"The Worst Mommy in the World – according to my child"
A. Dear Sniveling Female,
Get a grip on yourself woman. My first suggestion would be to tie her to a stake on a hill of fire ants and let them feast upon her obstinate flesh. If that is not an option, than may I suggest that you rip her toenails off and douse her feet with whiskey? No? You Americans make me sick. I suppose if you're unwilling to punish her in the Vlad the Impaler way, then all I can say is this. It is very normal and appropriate for young children to express these strong feelings. Often "hate" is the best word they have for the frustration and anger that they are feeling. Simultaneously, they understand that as the adult in their life, they are utterly dependant on you for their care and well-being. It is a sign of their growing independence and awareness of autonomy. Now lock her in a cage with hungry rats.
Yours,
Vlad
Q. Dear Vlad,
My five year old son has recently taken to peeing in places other than the toilet. The back yard, the school playground, the wall in the bathroom. He then lies to me, and tells me it wasn't him. He has been potty trained for years. Why would he do this?
Sincerely,
Pee Boys Mother
A. Dear Mother of Future King,
Have I met you? Were you part of my "Thousand virgin tour" a few years back? For this sounds as if he is truly the son of my loins. He is marking his territory woman, and you would do well to heed his warnings. Ah, I remember my own boyhood peeing as if it were yesterday – first comes peeing, then the torture with hot pokers, and finally the beheadings. Sigh, your son is sounding like a fine young impaler.
Are you staring at me with incredulity woman? Mother of the pee maker? Am I sensing that you wish to stop this behavior? What is next – a ban on his public masterbation?
Do you not recognize his potential? His inner zest? No?
Ok, well – often when children revert or begin to new behaviors that they know are inappropriate – they are experiencing stress of a change. Is there anything different is his routine? A New teacher? A friend move away? A new baby in the house? When a child feels out of control they will often turn to controlling the only two things they may have complete power over – Eating and Toileting. I would suggest that you speak with your son – making sure that you stress that this is inappropriate behavior and that there will be consequences. He will wash the wall – when he pees on it, for instance. He will loose a privilege or toy. Lay out the consequences and see what happens. If he does it again – make sure you follow through. Little boys find all things genital wildly hilarious. He may have seen another boy or older male relative do this same thing in the woods? Young boys will often emulate older male role models, particularly when it comes to the hysteria of peeing outdoors.
Now, where do you live? I may be by with a DNA test. I sense this child is my seed.
Yours,
Vlad
Vlad the Impaler is an occasional contributor to this blog. His renown in the world of early childhood is a well-kept secret. Please don't make him visit you. His on site consultations are no "Super Nanny and often result in death, mayhem and carnage.